MEET OUR TRIP LEADERS
Our trip leaders are experienced leading trips for teenagers all over the world. They are compassionate, empathetic, knowledgeable and well-rounded. Above all, our trip leaders encourage our participants to be their best. We are grateful to have such a wonderful team.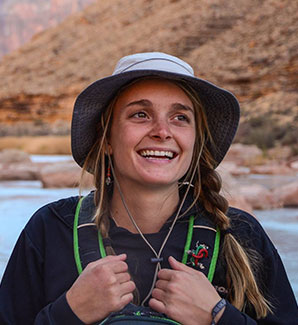 Caitlyn Tetterton
Caitlyn grew up in the rolling hills of Virginia, but left for Ohio University to study photojournalism. She started her college years off with an extended Boundary Waters canoe trip and quickly switched her studies to Outdoor Education and Environmental Geography. While earning her degree, she studied abroad in Costa Rica and completed a 26-day professional outdoor leadership course. Ever since, she's been working around the US – from West Virginia to Alaska to California – with kids and teens in the outdoors. When not working, she is always searching for the most inspiring rock climbing routes, rivers, and canyons to explore or simply spending time on farms immersed in good food and cooking. More recently, Caitlyn took 25 days to raft the Grand Canyon. She loves the nomadic lifestyle and looks forward to many future travels.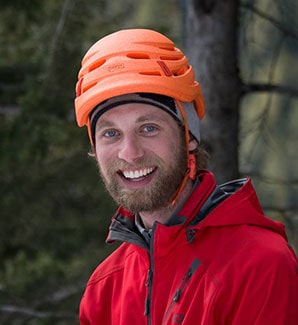 Kenny Goff
Originally from Pennsylvania, Kenny graduated from Indiana University with majors in Entrepreneurship and Management and a minor in Outdoor Recreation. While in college, he taught university courses in rock climbing and backpacking for Indiana University Outdoor Adventures. After graduation he made the move out west to be closer to the mountains and subsequently has climbed all over the states, as well as in Thailand, Ecuador, and Mexico. Kenny has a wide array of different outdoor pursuits, including: rock climbing, mountaineering, ice climbing, skiing, snorkeling, kayaking, and cycling. Kenny's certifications include Wilderness First Responder, American Mountain Guides Association Single Pitch Instructor, AIARE Level 2 Avalanche, and Leave No Trace Master Educator. He has spent the last 10 years instructing in the outdoors and sharing his love of the natural world with students and coworkers alike!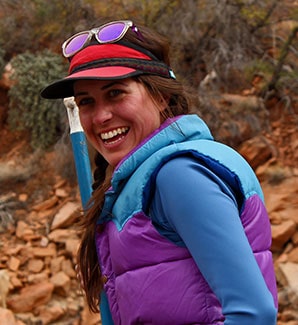 Erinna McCarthy
Erinna was born in Portland, Oregon but had the opportunity to call many places home throughout childhood. She is currently rooted in Tahoe but travels throughout the states providing outdoor education to students of all ages. Travel has always been important to Erinna. In high school, Erinna spent a year abroad in Japan where she learned the language and culture. After graduating from the University of Puget Sound with a degree in Economics and Environmental Studies, she spent her summers as a wrangler on ranches in Colorado and California and winters in Alta, Utah perfecting her turns. She has a passion for travel, spontaneous adventures, skiing, river sports, riding, dance, theater, design and science. During the winter months, you can find Erinna working as one of the few female ski patrollers in Tahoe.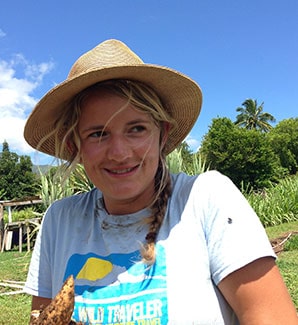 Alyssa Grove
Alyssa grew up in the mountains of Southern Oregon. She was lucky enough to have awesome wild places nearby and spent her childhood having adventures and cultivating a great appreciation for the outdoors. She then attended Southern Oregon University where she majored in Environmental Studies and Biology. While in school she got her first experience working with youth in the outdoors while interning on a nature reserve in New Zealand. This led her to work as an Interpretive Park Ranger for both the National Park Service and National Forest Service. Since then she has been teaching outdoor education all over western North Carolina and throughout the State and National Parks of California. Alyssa loves to spend her free time exploring nature through backpacking, rafting, tide pooling, and hiking while geeking out with a field guide. She is also passionate about traveling and living nomadically, getting to experience new cultures, and eating and cooking delicious food.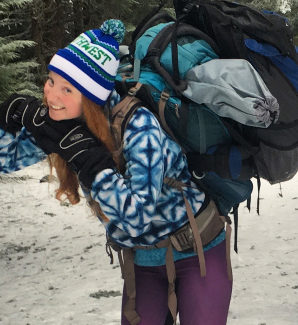 Jordan Kimmerly
Born and raised in the Pacific Northwest, Jordan has been an avid adventurer all her life and is happiest when she has her boots on her feet. She earned her bachelors in education from Western Washington University and a masters in education from Pennsylvania State University. During the school year she teaches middle school math with an elective in outdoor recreation and in the summer she loves leaving the classroom to get youth out into the wilderness. Over the years Jordan has guided youth on trips in hiking, backpacking, rock climbing, mountaineering, snow shoeing, nordic skiing, snowboarding, and sea kayaking. In her free time she also works as a challenge course facilitator and white water raft guide.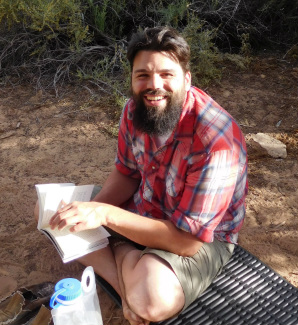 Paul Davidson
Paul grew up hiking, camping, and rock climbing in the Adirondack mountains of New York state. He's traveled the world for work and pleasure, visiting places like Morocco, Ecuador, and Colombia. Paul spent seven weeks seeing the best of the U.S. on a bicycle trip from Seattle, Washington to Bar Harbor, Maine. Not one to be content with the contiguous United States, Paul has guided both sea kayaking in Alaska and trips with the Wild Traveler in Hawaii. Paul is passionate about outdoor education and has more than ten years of experience in the field. In his spare time, Paul loves to rock climb, cross country ski, and spend time backpacking. Paul looks forward to continuing to work with the Wild Traveler in the years to come.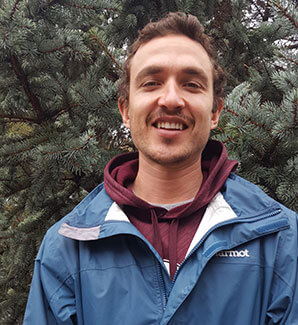 Mitchell Wykoff
Mitchell Wykoff works in education year round in both the outdoors and classroom settings. He has always loved being outside and, like his mom and grandma, education. While in college he combined his passion of outdoor recreation and education by completing an internship at the Clemmie Gill School of Science and Conservation. During his internship, Mitchell continued exploring and deepening his relationship with nature through recreation like backpacking, rock climbing and trail running. He brings the skills learned in college and his years of field experience with him on every Wild Traveler trip. When not leading trips, you can find Mitchell pursuing his new interest in the sport of free diving, fishing in Latin America, watching Netflix, and perfecting his cooking method to produce the ultimate over medium fried egg.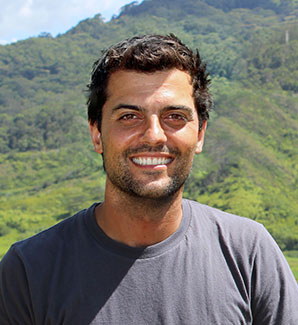 Ryan Lofgren
Ryan grew up in the Pacific Northwest just south of Seattle. He graduated from Western Washington University majoring in environmental education. Over the last 15 years Ryan has worked with thousands of kids on over two hundred outdoor programs throughout Washington, Oregon, California, Hawaii, Malaysia, Singapore, Indonesia and South Korea. In his free time Ryan goes on his own adventures most recently taking two years to work and travel across Latin America, Europe and Asia. His favorite activities include SCUBA diving, cooking, surfing, watching movies, rock climbing, and jamming out on his ukulele. Ryan currently lives in Ventura, California where he designs and coordinates all trips with The Wild Traveler.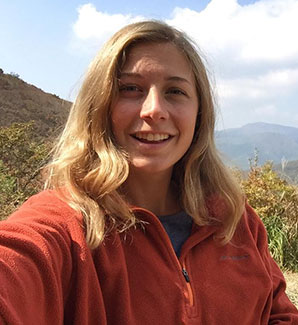 Darcy Book
Darcy is an outdoor educator from California who has led trips for youth in the USA, South Korea, Malaysia, Costa Rica, Peru, South Africa, Swaziland, and Mozambique. After graduating from UCLA with degrees in English and Spanish, she developed an interest in experiential education and spent a year exploring the mountains and jungles of Central and South America. She's also worked with high-risk populations of teenage women and tutored teenage immigrants and refugees. On the side, she enjoys skiing, hiking, playing roller derby, and going to the ends of the earth for the best ice cream!
Anna Greenberg
Originally from Washington, DC, Anna now spends most of her time in California. After studying fine arts and environmental studies at Harvard University, Anna has been on the move across the US and the world. She has traveled throughout Europe, the Middle East, Thailand, New Zealand, and Morocco. She has guided community service based teen trips in Thailand, led backpacking trips for college students in New England, taught gardening to kids in San Francisco, and worked as an outdoor educator with students of all ages throughout the parks of California. Although she loves canoeing, rock-climbing, rafting, and biking, her favorite outdoor activity is simply to grab a water bottle and go for a hike. When going on urban or cultural-based adventures, Anna loves seeking out live music, spicy food, local arts, and new friends. Her dedication to travel and exploration have made her a nomad for the last six years, and she has no plans to stop!